From Dr Masaru Emoto - Japan - about Earthquake march 2011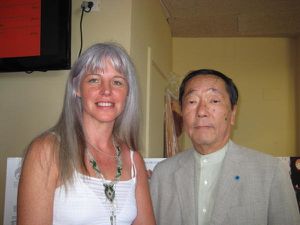 ( traduction française en cours ...
dans les heures qui suivent)
Love and thanks
Minthé
I would like to send you my heartfelt gratitude for your thoughtful messages and prayers with your love for the victims and people suffering from the desaster in Japan.
Dr. Emoto and we are trying to help them, and we would like to to ask you give us your warm hand to support them with us. Attached please find Dr. Emoto's letter to ask for help. We would deeply appreciate you for your kindest donation as well as spreading this message to your friends.
I translated his letter into English and Spanish. If you can translate it into your local language and pass it on to your people, I would like to ask you please do it to help our beloved people who are suffering and trying their best to survive at the desaster areas. Currently they are lacking water, and everyone is asking for water there. Dr. Emoto and we would like to send them Water of Love and Gratitude as soon as we can. We would like to please help us send water to such people.
We are certain that your heartfelt support and prayers will encourage them and give a positive power to walk ahead knowing that everyone in the world is supporting them.
Once again, thank you very much for your warmest and sincere help with love.
-----------------------------------------------------------------------------------------------------------
Michiko Hayashi (Ms.)
* Dr. Emoto's assistant
* International Affairs
* International Rights
15 March, 2011
For all kind people around the world
Firstly, we thank you deeply for sending your kind prayers and warm wishes with positive energy to Japan and its people. As you know, everyone in Japan is going through such a difficult time, and we are trying the best we can to overcome this catastrophe. Though the truth is that we are so shocked and so very sorry for the victims and their families and friends.

Masaru Emoto and his staff would like to help them in the best manner we can. We will send water of Love and Thanks – water that will improve immunity - to people who live in the areas of nuclear plants and where people are suffering after earthquakes and tsunami as well as other necessary things for them.

...
We would like to ask you PLEASE help us and donate any amount of money you can by Pay Pal or by arranging the money transfer to the bank account of the EMOTO PEACE PROJECT as stated below. We would like to bring the love-money that we collect from each of you to the disaster areas as well as using the money to donate water to people. We appreciate you very much for your utmost thoughtfulness. Thank you very much.
Donation by Pay Pal: info@emotoproject.org
Bank Information:
EMOTO PEACE PROJECT
Payee: EMOTO Project
Bank: The Bank of Tokyo-Mitsubishi UFJ, Ltd.
Branch: Asakusabashi
Account number: 0941063
Bank Code: 0005
Swift Code: BOTKJPJT
Again and again, thank you very much for your kindest support. We are very sorry that we will never be able to thank you enough, but we will always remember your warmness and will appreciate you more than ever and forever.
With much love and gratitude,
Masaru Emoto
President
EMOTO PEACE PROJECT